About the Port of Stavanger
55 000 ANNUAL CALLS – NORTHERN EUROPES LARGEST OIL AND GAS CLUSTER
OVER 6 000 METERS OF QUAYS – 754 000 M2 LAND AREA
500 000 CRUISE GUESTS
What we do
The Port of Stavanger handels cruise, goods, offshore and ferry traffic. Other important activities include property management, pleasure boat, tourism and collaboration with festival organisers and public sector bodies.
You will be welcomed by service-minded and innovative professionals. The Stavanger region offers a well-developed infrastructure and people with high level of skills and expertise. We are centrally located in relation to the rest of Europe.
The region offers spectacular nature, and Vågen harbour in the very heart of Stavanger can accommodate very large cruise ships
Main objective
The ports in the Stavanger region aim to offer efficient, competitive and environmentally sustainable services.
Our values
dedicated – smart – secure
Our activities
The Port of Stavanger aims to be proactive in port facility development, and a driving force for the continued expansion of ports and maritime infrastructure in the region. Through its subsidiaries and participating companies, the Group aims to operate and provide services at the port terminals under its ownership and management.
The Group shall also carry out mandatory activities on behalf of the owner municipalities. The company's owners operate with a long-term perspective in relation to their corporate investments and the development of the Group.
Our organisation
The inter-municipal port authority was established on 15 March 2000. From 1 January 2007 a restructuring resulted in management and operations being allocated between two new companies.
The parent company (Stavangerregionen Havn IKS) deals with administrative activities linked to the port, and also acts as owner of the Group's mooring facilities and properties, which are leased out to the wholly-owned subsidiary Stavangerregionen Havnedrift AS. The parent company was established pursuant to the Norwegian Act relating to Inter-Municipal Companies, no. 6, of 29 January 1999. A separate corporate agreement has been drawn up and the company is registered in the Brønnøysund Register Centre.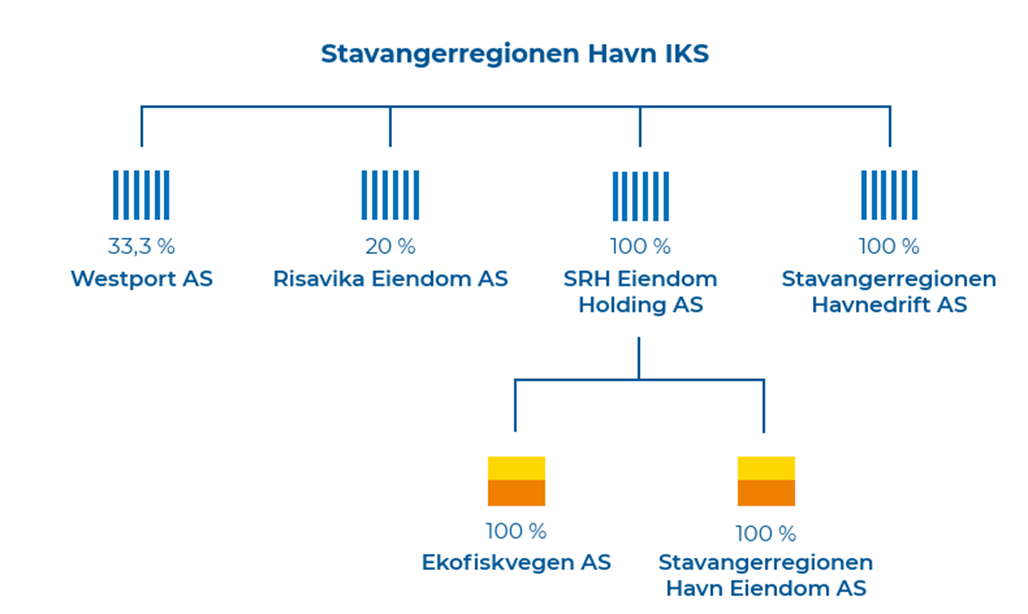 Property ownership
The company Stavangerregionen Havn IKS is owned jointly by the municipalities of Stavanger (81.88%), Sola (16.75%) and Randaberg (1.36%).
The shareholders' committee is the company's highest authority and is comprised of five members appointed by the owner municipalities. Leif Høybakk (from Stavanger municipality) chairs the shareholders' committee for the period 2020 – 2024.
The Board comprises seven members who are elected by the shareholders' committee. Arnt-Heikki Steinbakk from Stavanger municipality is Board Chair for the period 2020 – 2024.